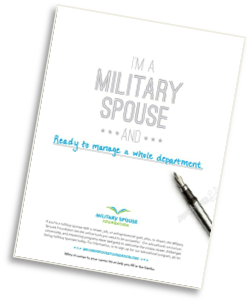 As a child, what did you dream about being "when you grew up?" Maybe a doctor, firefighter, marine biologist, or astronaut? Dreaming as a child is fun – there aren't any limits. No bills, kids to take care of, deployments, or other responsibilities.
Today, I encourage you to join us to dream with child-like abandon again. Dreaming is the gateway to creating your ideal career! As adults, we have the opportunity to dream in even more detail. We have been exposed to many more career paths than we could have imagined as a child. You can be anything from a public relations manager, fashion stylist, business consultant, food critic and everything in between.
What's your big career dream?

The Military Spouse Foundation is rekindling and sharing the dreams of military spouses. We are ambitious – we want to collect 10,000 career dreams. Please share yours with us! We have designed "Dream Cards" for you to download, print and write your dream onto:
Then, post a picture holding your dream card on the MSF Facebook page. We will be collecting and highlighting them throughout the Dream Campaign.
1. Download Your Dream Card Now (PDF)
2. Take a picture of yourself with your dream card.
3. Post it on the MSF Facebook page