Inspire a Military Spouse
INSPIRATION CAN HELP MAKE CAREER DREAMS A REALITY FOR MILITARY SPOUSES
The Military Spouse Foundation team is reaching out to celebrities, executives and successful entrepreneurs around the country to place a personalized "well wish or statement of support" onto 10,000+ MSF Dream cards that will be given to spouses for inspirational support throughout the tours and base to base events. The dream cards, once completed by spouses, will be added to the MSF Hall of Dreams Collection to be showcased around the nation. We are truly honored to have our community and business leaders share their words of inspiration, support and wisdom to the spouses in the program.
MAKE A DIFFERENCE IN 4 EASY STEPS:
Download & print as many dream cards as you would like to sign.
Write your personal message and sign it with your name, title & company name (if applicable).
Either take a photo holding the card or scan it to file.
Send it to the MSF using the form on the right of this page.
Or feel free to mail them to: 1230 31st Street, NW 2nd Floor, Washington DC 20007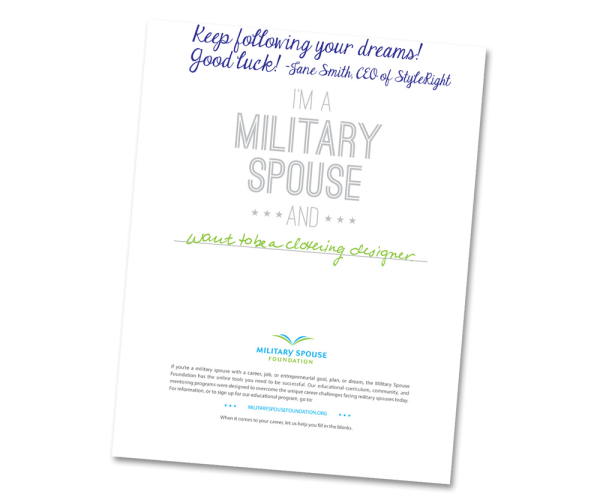 WE INVITE YOU TO JOIN OUR COMMUNITY AND GET INVOLVED
Your support and friendship is critical to the success of our spouses. Please feel free to share this opportunity with your colleagues and friends.